(Soooo....it's been a while. HI!...again)

​I (try to) go to the gym regularly. Typically, it's a terrible experience, especially when it's been a while. The interesting thing about going to the gym is that pain…is the goal. If you don't "feel it" (if it doesn't hurt a certain way), it's not working. We have sayings like "no pain, no gain", & "sweat is weakness leaving the body", to push us…to keep suffering…to endure. Yet…we fail to see life the same way. We expect it with our bodies, because we walk into a location called a 'gym', but what do you when life….is a gym? What do you do when your mind is constantly on a treadmill…on its highest speed…at all times? What do you do when everything feels like…a workout? Well, you do the same thing you do at the gym. For where there is no pain, there's no true gain.
Powered by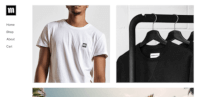 Create your own unique website with customizable templates.